14jan2:00 pm5:00 pmMasterclass in Rheumatology Time has ran out! Better luck next time!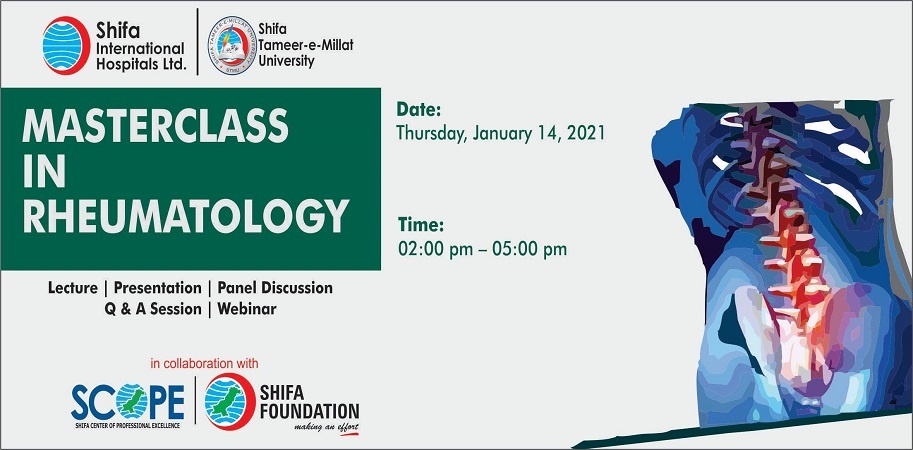 Course Details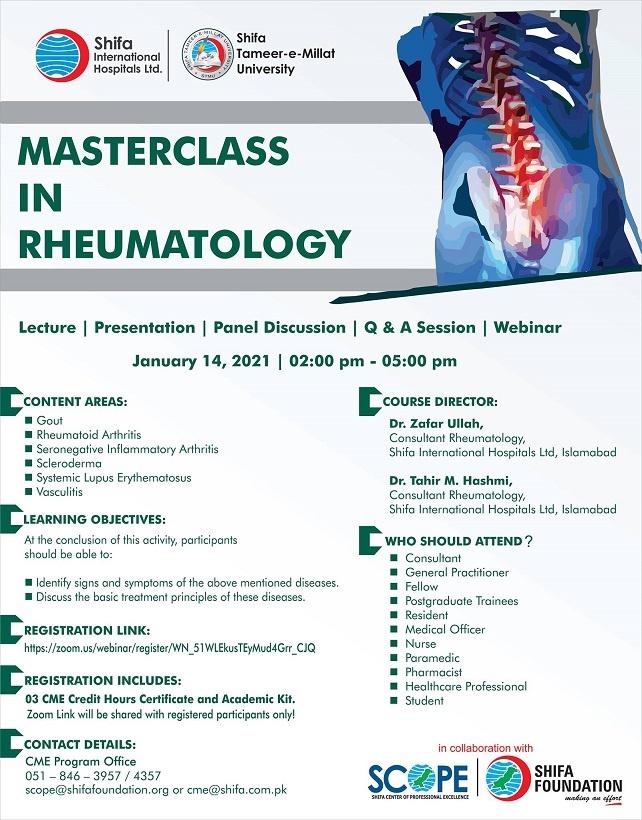 Overview:
Shifa International Hospitals Ltd. in collaboration with Shifa Foundation has organized "Masterclass in Rheumatology" on Thursday, January 14, 2021 from 02:00 pm to 05:00 pm.
This activity is designed to update clinical knowledge that will help you to improve your daily practice, enhance patient confidence and improve patient safety.
Content Areas:
Gout
Rheumatoid Arthritis
Seronegative Inflammatory Arthritis
Scleroderma
Systemic Lupus Erythematosus
Vasculitis
Learning Objectives:
At the conclusion of this activity, participants should be able to:
Identify signs and symptoms of the above mentioned diseases.
Discuss the basic treatment principles of these diseases.
Trainer/Course Director:
Dr. Zafar Ullah, Consultant Rheumatology, Shifa International Hospitals Ltd. Islamabad.
Dr. Tahir M. Hashmi, Consultant Rheumatology, Shifa International Hospitals Ltd. Islamabad.
Who Should Attend?
Physician
Consultant
General Practitioner
Fellow
Postgraduate Trainees
Resident
Medical Officer
Medical Student
Nurse
Paramedic
Pharmacist
Healthcare Professional
Time & Duration:
02:00 pm – 05:00 pm (Three Hours)
Teaching Hours:
03 (Three Hours)
Assessment:
The assessment in this activity is divided into the following components:
End of Session Assessment – Online
Reflection on improvement – assessment after 02 months
Mode of Teaching:
The activity is highly participatory, offered through interactive plenaries, individual presentations, group case-based learning and presentations via webinar.
Disclosures:
The Faculty/Speaker, CME Planning Committee, Reviewer, Moderator and any individual connected to this activity confirms that they do not have any relevant financial relationships with any commercial interests to disclose.
Registration Criteria:
Consultant & General Practitioner                                                                                   Rs: 2000/-
Residents (PG & MO)                                                                                                          Rs: 1500/-
House Officer, Medical Students, Pharmacist, Nursing & Paramedics                      Rs: 1000/-
Registration Link:
https://zoom.us/webinar/register/WN_51WLEkusTEyMud4Grr_CJQ
Registration Includes:
03 CME credit hours certificate and academic kit.
Payment Method:
Deposit / Transfer the registration fees in Allied Bank Limited (Branch code: 0947)
# 0010008262400015 (Shifa Foundation) and submit original copy via email at scope@shifafoundation.org or WhatsApp at 0346-8551048.
Account Details – For National Participants:
Title: Shifa Foundation
Bank: Allied Bank Limited
Branch: I–8 Markaz, Islamabad (Branch Code 0947)
Account No.(From other banks): 0947–0010008262400015
Account No.(From Allied bank): 0010008262400015
IBAN: PK72 ABPA 0010008262400015
Swift Code: ABPA PKKA
Account Details – For International Participants:
Title: Shifa Foundation
Bank Name: Allied Bank Limited
Branch/Address: I–8 Markaz, Islamabad (Branch Code 0947)
Currency: US Dollar
Account #: 0010008262400021
IBAN #: PK07 ABPA 0010008262400021
Swift Code: ABPA PKKA
Contact Details:
CME Program Office: 051 – 846 – 3957 / 4357
cme@shifa.com.pk  | scope@shifafoundation.org
Time

(Thursday) 2:00 pm - 5:00 pm