17jun10:00 am11:00 amPediatric Dermatology in ER | Topic 01: Infection Time has ran out! Better luck next time!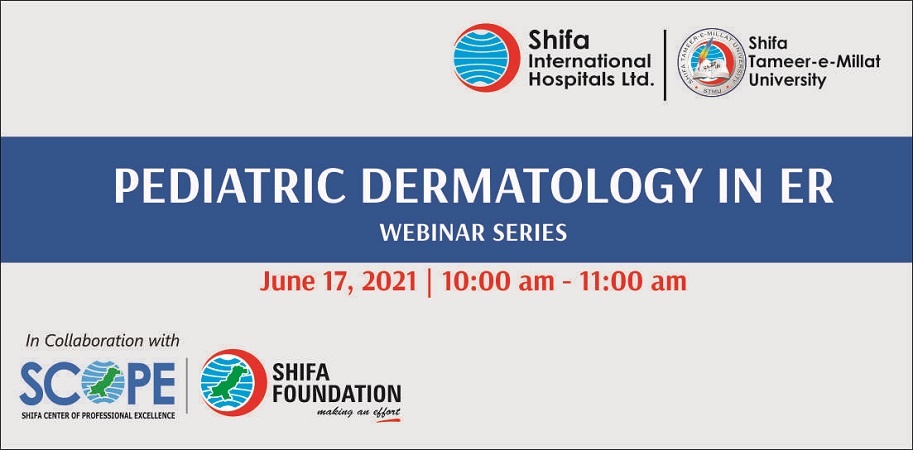 Course Details

Common Dermatological Presentation in Pediatric ER | Topic 01: Infection
Shifa Center of Professional Excellence (SCOPE) in collaboration with Shifa International Hospitals Ltd, Islamabad presenting a series on Pediatric Dermatology in ER.
This Six weeks' series will be the one of its kind in suburb. Shifa International Hospitals and Shifa Center for Professional Excellence always thrive to upgrade the clinical knowledge of healthcare provider which will give them the most appropriate methodologies that are implemented worldwide.
The first topic for discussion is INFECTION.
Learning Objectives:
At the conclusion of this activity, participants should be able to:
Describe solution for common nappy rashes
Identify Seborrheic Dermatitis and Common triggers for seborrheic dermatitis.
Analyze the Impetigo highly contagious skin infection that mainly affects infants and young children.
Interpret the Tinea capitis, corporis and Kerion.
Identify Complications of molluscum contagiosum.
Describe a Wart/Verrucas medically and Six viral Exanthems of childhood.
Identify a typical skin infections- special cases.
Activity Director/ Speaker:
Dr. Amjad is a graduate of Ayub Medical College, Peshawar. He is a Fellow of Royal College of Pediatrics & Child Health, UK
He has also done his Masters in Dermatology Skills & Treatment from University of Hertfordshire, UK.
Previously, he has worked as Consultant Pediatric Dermatologist & Clinical Lead Dermatology at Queen's Hospital, Rom Valley, Romford, UK.
Registration Link:
https://zoom.us/webinar/register/WN_jPGxFCacSIOj-kW8h6BTVA
Who Should Attend?
Physician
Consultant
General Practitioner
Fellow
Postgraduate Trainees
Resident
Medical Officer
Medical Student
Nurse
Paramedic
Pharmacist
Healthcare Professional
Mode of Teaching:
The activity is highly participatory, offered through interactive plenaries, individual presentations, group case-based learning and presentations via webinar.
Registration Criteria:
Consultant, General Practitioner, Residents, House Officer, Medical Students, Pharmacist, Nurse, Paramedics, Healthcare Professional = Rs: 1500/-
Payment Method:
Deposit / Transfer the registration fees in Allied Bank Limited (Branch code: 0947) # 0010008262400015 (Shifa Foundation) and submit original copy via email at scope@shifafoundation.org or WhatsApp at 0346-8551048.
Disclosures:
The Faculty/Speaker, CME Planning Committee, Reviewer, Moderator and any individual connected to this activity confirms that they do not have any relevant financial relationships with any commercial interests to disclose.
Contact Details:
CME Program Office: 051 – 846 – 3957 / 4357
cme@shifa.com.pk | scope@shifafoundation.org
Time

(Thursday) 10:00 am - 11:00 am