24may6:35 am6:35 amAnticoagulation with Direct Oral Anticoagulants (DOACs)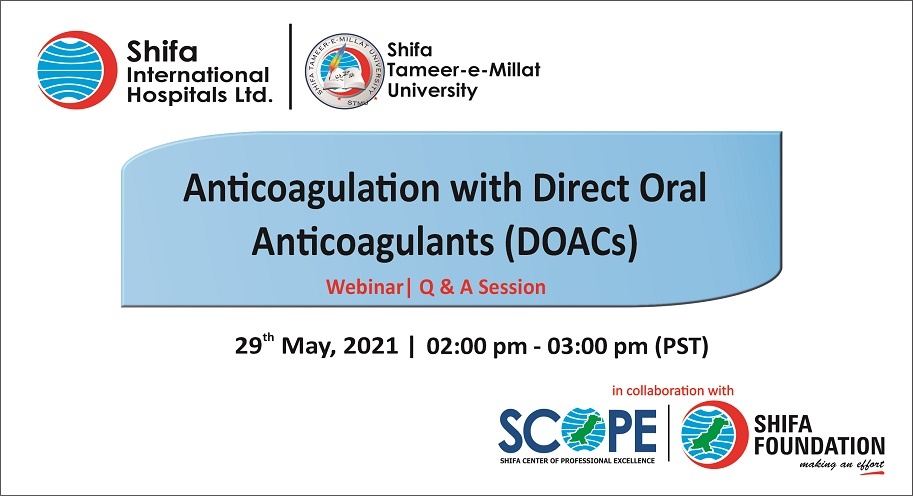 Course Details

Anticoagulation with Direct Oral Anticoagulants (DOACs)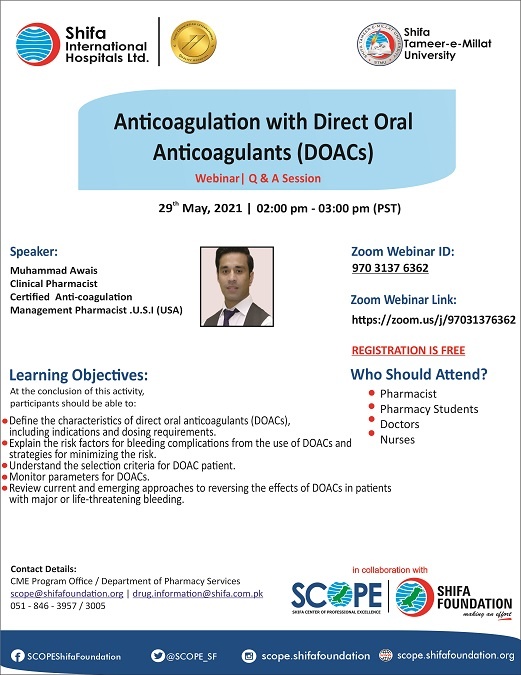 Overview:
Following the lectures series on the updates in Pharmacy, Shifa Center of Professional Excellence (SCOPE) in collaboration with Shifa International Hospitals Ltd, Islamabad has organized the Fourth webinar on the "Anticoagulation with Direct Oral Anticoagulants (DOACs)".
This activity is designed to update clinical knowledge that will help you to improve your daily practice, enhance patient confidence and improve patient safety.
Learning Objectives:
At the conclusion of this activity, participants should be able to:
Define the characteristics of direct oral anticoagulants (DOACs), including indications and dosing requirements.
Explain the risk factors for bleeding complications from the use of DOACs and strategies for minimizing the risk.
Understand the selection criteria for DOAC patient.
Monitor parameters for DOACs.
Review current and emerging approaches to reversing the effects of DOACs in patients with major or life-threatening bleeding.
Trainer:
Muhammad Awais, Clinical Pharmacist, Certified Anti-coagulation, Management Pharmacist. U.S.I (USA), Shifa International Hospitals Ltd.
Who Should Attend?
Pharmacist
Pharmacy Students
Doctors
Paramedic
Nurses
Medical Officer
Medical Student
Healthcare Professional
Date of activity:
May 29, 2021
Webinar Link:
https://zoom.us/j/97031376362
Time & Duration:
02:00 pm – 03:00 pm (PST)
Teaching Hours:
01 Hours (One Hour)
Assessment:
The assessment in this activity is divided into the following components:
End of Session Assessment – Online
Reflection on improvement – assessment after 02 months
Mode of Teaching:
The activity is highly participatory, offered through interactive plenaries, individual presentations, group case-based learning and presentations via webinar.
Disclosures:
The Faculty/Speaker, CME Planning Committee, Reviewer, Moderator and any individual connected to this activity confirms that they do not have any relevant financial relationships with any commercial interests to disclose.
Contact Details:
CME Program Office: 051 – 846 – 3957 / 4357
cme@shifa.com.pk  | scope@shifafoundation.org
Time

(Monday) 6:35 am - 6:35 am