18jan1:00 pm2:30 pmADVANCEMENTS IN NEUROSURGERY Time has ran out! Better luck next time!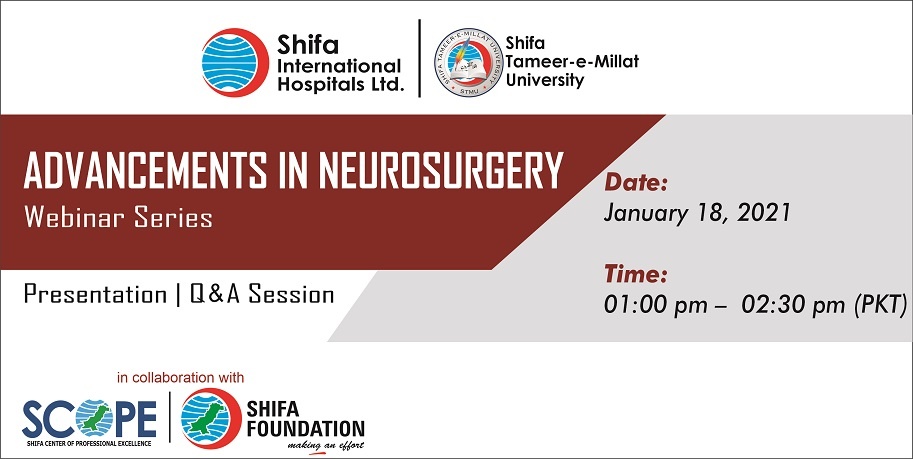 Course Details
Overview:
Shifa International Hospitals Ltd. in collaboration with Shifa Foundation has organized a webinar series on "Advancements in Neurosurgery" to provide updates about the advancements in the field of neurosurgery.
This activity is designed to update clinical knowledge that will help you to improve your daily practice, enhance patient confidence and improve patient safety.
Content Areas:
• Functional Neurosurgery
• Neurology role in Functional Neurosurgery
Learning Objectives:
At the conclusion of this activity, participants should be able to:
• Understand the concept of Functional Neurosurgery
• Determine the factors of Neurology involved in Functional Neurosurgery
Trainer/Course Director:
Dr. Akbar Ali Khan, Neurosurgery, Shifa International Hospitals Ltd. Islamabad.
Faculty:
• Prof. Tipu Aziz, Professor of Neurosurgery, Oxford University, United Kingdom.
• Dr. Nabeel Muzzafar Syed, Neurologist, Shifa International Hospitals Ltd. Islamabad.
Who Should Attend?
Physician
• Consultant
• General Practitioner
• Fellow
• Postgraduate Trainees
• Resident
• Medical Officer
• Medical Student
• Nurse
• Paramedic
• Pharmacist
• Healthcare Professional
Link to join:
Assessment:
The assessment in this activity is divided into the following components:
• End of Session Assessment – Online
• Reflection on improvement – assessment after 02 months
Mode of Teaching:
The activity is highly participatory, offered through interactive plenaries, individual presentations, group case-based learning and presentations via webinar.
Disclosures:
The Faculty/Speaker, CME Planning Committee, Reviewer, Moderator and any individual connected to this activity confirms that they do not have any relevant financial relationships with any commercial interests to disclose.
Contact Details:
CME Program Office: 051 – 846 – 3957 / 4357
cme@shifa.com.pk | scope@shifafoundation.org
Time

(Monday) 1:00 pm - 2:30 pm