26sep12:00 am11:55 pmAnnual medication management conference shifa 2021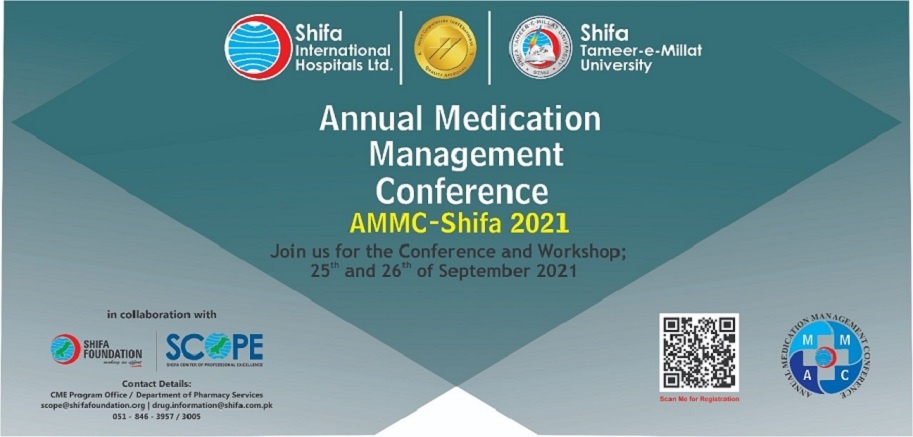 Course Details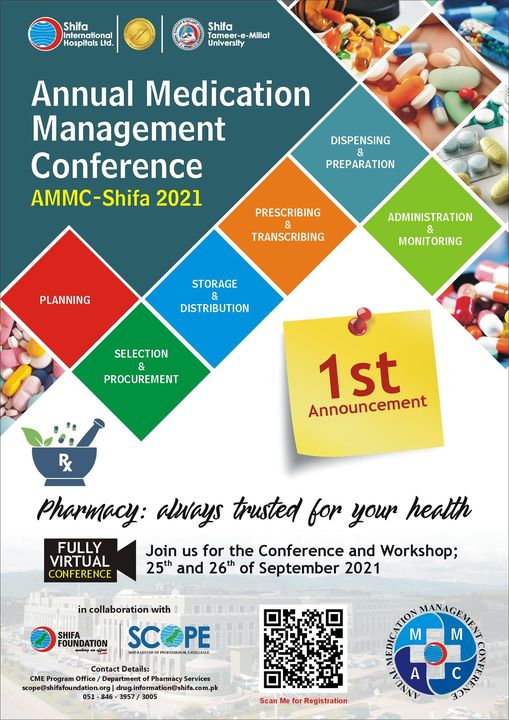 Annual Medication Management (AMMC-Shifa 2021)
25th and 26th September, 2021.
Overview:
Shifa Center of Professional Excellence is organizing a very first International Annual conference on Annual Medication Management (AMMC-Shifa 2021) in collaborative efforts of Shifa International.
This conference will be conducted virtually under the theme of "Pharmacy: Always trusted for your health". Due to the outbreak of COVID – 19 our new virtual format will be ensuring the safety of event delegates, members and staff while allowing innovation, celebration and decades of tradition to continue.
Learning Objectives:
At the conclusion of this course, participants should be able to:
Highlight the achievements and roles of pharmacists in healthcare sector.
Provide platform to National & International pharmacist to present their research work in lieu of medication management.
Abstract Submission:
Abstracts are invited Globally!
Abstracts are invited from various areas of pharmacy, that will provide insight and highlight the role of pharmacist in medication management. Best abstracts will be picked and selected for oral presentations that will inspire new ideas.
Who Should Attend?
Pharmacist
Pharmacy Students
Doctors
Paramedic
Nurses
Nutritionist
Medical Officer
Medical Student
Healthcare Professional
Contact Details:
CME Program Office: 051 – 846 – 3957 / 4357 / 3005
cme@shifa.com.pk  | scope@shifafoundation.org  | drug.information@shifa.com.pk
Time

(Sunday) 12:00 am - 11:55 pm